I've been thinking a lot lately about how the kids' childhoods will differ from their contemporaries as a result of this wild adventure we're about to embark upon. Ruby understands that there are many things we will be giving up to go sailing around the world but I don't think she's got the context to understand it fully yet. The following are some of the experiences that Ruby and Miles might never share with their peers.
Winter: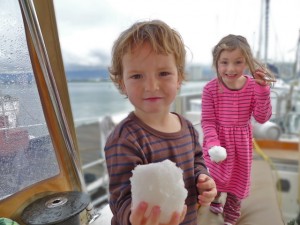 Our plan is to navigate Convivia straight to summer and hold her course there for as long as possible. Sadly, It seems that our little California girl has read too much about the other three seasons and has set some goals of her own. A few weeks ago we had a "snow scare."  Every time the wind shifted or the rain changed three heads would pop out of the companionway to see if there were any flakes falling. Ruby gathered her snowman making supplies and we searched for and found 3 mittens (no matches) just in case. We did get hail on the boat, frost on the docks, and snow in the hills but no snow on our boat. As a consolation prize, we sometimes defrost the freezer and pull out thee slush for snowballs.  While they have no problem figuring out any other kind of fighting,  their one and only snow ball fight had to be heavily coached—"Okay Ruby, throw that snowball at Miles…."
Spring;
I promised her that before she grows up she will get so be part of maple sugaring. Tomorrow we'll load up on books about maple sugaring from the library, and play on "Sugar Shack" by Phish. We know it's getting to be the time in Maine when there is enough of a thaw for the sap to run, but I refuse to go back until Summer is in full swing. That said, boiling the maple syrup is about as good as it gets for a sweet Spring celebration and I'll make sure she gets to celebrate that way at least once even if I have to send her by herself.
School:
Our kids carry bones and shells home in their pockets and go to sleep with field guides tucked under their pillows and make so many keen observations about the weather and the birds and the wildlife changing as the year passes.  As we travel, they will learn geography, politics, world history, culture, and multiple languages. They will have friends from all over. They'll be capable sailors and have strong bodies and good judgement, but they will probably never learn to square dance, won't ever go sledding, and they'll never have that eager anticipation of the school bell ringing and the elation of going to recess.
Weighing these missed experiences with the bounty of rare and formative experiences they will have, I feel confident that we are making the best choice for our family but the protective worrisome voice in my head still pipes up from time to time.