Today started off just like any other Sunday. We scrambled around to get dressed and ready for the Coffee Social and then to get Vick out the door to the Farmer's Market. All of our friends came over for coffee and much fun was had. Then at 11:30 we kicked everyone out so we could hop a train to San Francisco.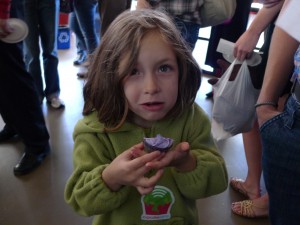 We caught the 12:19 train to SF and hoofed it to Automatic @ Pier 38. We arrived just a few minutes before the Camp started and there was already a line out the door. At 2 (on the nose) the line started moving and within a few minutes we were all crowding the tables for the first round of cupcakes. Ruby and I opted for Taro cupcakes and I was quite surprised that I really liked it. Vick stood at table 3 and waited for the Cheesecake cupcakes but they never came.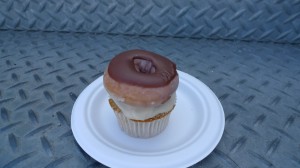 Lucky for us table 3 was also the home of the next round first pick, Blue Bottle Coffee Cupcakes with Krispy Kreme doughnuts on top. Yes, you heard right, a cupcake with a doughnut on top. I don't expect you to believe this without photo evidence, so here you go.
Believe it or not, after this little indulgence we were all cupcaked out. I know, we're wimps, I promise to work up a better tolerance for CupcakeCamp 2010. In any case we decided that the only thing that could get us back on track was an espresso and some good food, so we hopped on the N Judah and headed over to the Ferry Building for lunch/dinner.  After a way too hasty inhalation of food and beverage we hightailed it back to 4th and King to catch the train back to Mountain View.
When I say that this was the most miserable train ride I've ever taken, its not without rival. The post 21st Ammendment train ride of '09 may have given this one a run for its money  had not both kids been screaming, climbing on the tables, whacking the other riders, and generally being horrific.  It was in fact so bad that Ruby herself volunteered that "maybe next time I should only have one cupcake". Yeah, I think maybe only one would be good, and maybe not the one with a Krispy Kreme doughnut on top.