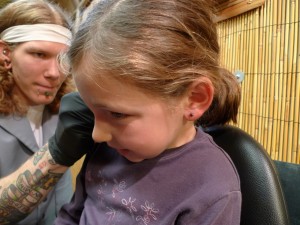 "Mom, can we read a story about someone who knows something is scary or hard and does it anyway?"  Ruby and I have been reading from "Bringing Out Their Best: Values Education and Character Development through Traditional Tales," by Norma J. Livo.  The book is organized in groups of stories about love, responsibility, compassion, cooperation and more.  In it are traditional stories from around the world written in the most basic way with no embellishment and no pictures or illustrations. I know that Ruby can't be told what to do or how to act but I'm pretty sure that she can learn these values through story telling.  Tonight we read about perseverance.
Today Ruby got her ears pierced. She's been admiring earrings for a while, yet she just has one friend her age with pierced ears. We've told her about the process from time to time and have told her that it would indeed hurt.  Even though the topic of discussion had been open for a while she hadn't ever asked to get her's pierced. When she did we both said Yes! right away even though Tucker and I never actually discussed the topic.
We went to a Telegraph Avenue body piercing and tattoo shop that got great reviews. They were incredible there and I really appreciated that they treated Ruby as the customer exclusively and gave her all of the information she needed to take care of her piercings.  The woman who helped us when we walked in was so enthusiastic and excited for Ruby and helped her choose her pair of ruby red studs to wear for the next month or so.  The customer waiting on the bench near Miles even let him touch his studded belt ("Ruby, you need to see this it's so beautiful.") and play with his lion wallet chain while Ruby waited her turn.  Tim, the piercer, was so soft spoken and gentle with Ruby.  He gently brused her hair out of the way and told her there would be no surprises since he would show her everything and tell her how each step would go.
We weren't at all surprised that Ruby sat in the chair, double checked the markings in the mirror, held tightly onto her worry doll, and waited for the first piercing.  She wiggled and shouted.  It hurt a lot as he pushed the hollow needle through her ear and set the earring and the backing.  Before we went in Tucker was worried that Ruby would end up with only one ear pierced. Tim practiced deep breaths with Ruby (imagine you're smelling a rose right here and blowing out a candle way over here) and told her she could say or yell anything she wanted for the second ear. Even knowing how much the first one hurt she took her big breath and did the second ear.
Smiling and proud she checked herself in the mirror and walked out.  Another customer complimented her on her pretty earrings and she was absolutely beaming.  She just couldn't wait to show Andrea in the marina office and she has plans to call friends tomorrow to tell them all about it. She's excited and she feels absolutely radiant with her earrings.
I think she was pleasantly surprised by us saying yes so easily to her wish. She's been known to ask for unreasonable things so it's important to us to look for the ways we can accommodate her.  My friend Sarah posted on her blog today About Saying Yes. It's wonderful when we recognize the opportunity to give children their vote.  I think, for Ruby, today was about much more than a pair of shiny sparkly gems. Her expression of courage and self-confidence showcased her inner beauty more succinctly than any sparkly jewelry possibly could.