We arrived in Two Harbors last night, just after the sun went down. We left Marina Del Rey around noon and motored out of the immense harbor. When we got to Santa Monica Bay, I briefly doused the engine to get a sense of the wind. We headed up and set the main. The wind sustained us for all of 15 minutes (at a measly 4 knots) before it died out completely.  I reluctantly conceded that there was no chance of making it to Catalina on wind power alone and powered up the diesel.
Time passed and the family went below to assemble the first of the few dozen snacks that we consumed on the 5 hr passage. I was sitting at the helm, reclining against the lifelines when I saw roiling seas to port. I've only seen fish move like that at the surface when there was a fearsome predator nearby. My guard went up. I bellowed to Vick to hold the kids and kept a watchful eye on the water.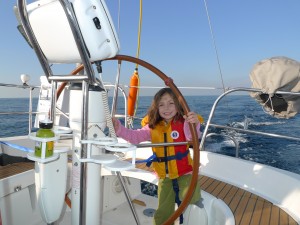 Within moments a saw a whale breach about 100 yards to port.  I called it out, partly to warn Vick of the potential danger, and partly to encourage the kids to come and see. They got their life jackets back on and bounded up to see. The whales were moving aft quickly and the kids were lucky to see a few breaches and blows before they swam out of view. Later in the day we saw porpoises (probably a dozen), and a handful of seals.
Ruby took a turn at the helm, and taught herself how to walk to the bow using a double harness for safety. I am impressed with how quickly she learns everything, from boat parts and names, to concepts.
Miles took a late nap around 2pm and Ruby conked out at 3:30, after playing a few rounds of Fairy Princesses with Vick. Vick and I were psyched because it gave us hope that the mooring could be accomplished without distraction. We plowed through relatively calm and windless seas anxiously watching the sun setting and estimating our arrival time against that deadline. By the time we arrived at the harbor entrance, the sun had set.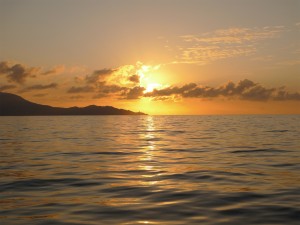 The already hazy air, combined with the waxing twilight made it almost impossible to see our landmarks and ATONs. I managed to sight a water tank on a hill, and created a sight-line with a small outcropping called Ship Rock. I estimated how far off that line we had to be to avoid the reef and held that course. I was relieved when I saw bird rock and the green flasher behind us. I had survived the reef, and we were close enough to radio to the harbor master and request our mooring ball. Within a few minutes we were happily bobbing at our mooring, the kids were melting down, and it was too dark to see. We decided to set the ship to rights and head to shore for dinner.
Our first day of family sailing was a resounding success. Stay tuned for Catalina: First Impressions.